How To Break In New Speakers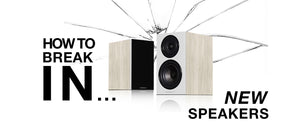 DO I NEED TO BREAK IN MY SPEAKERS?
The short answer is no. The long answer is yes, kinda. Regardless of "break-in", new loudspeakers sound beautiful straight out of the box. But they do get better with time. And this is a process that happens naturally. "Break-in," for the most part, merely refers to the variety of ways you can speed up this process.
WHY DO SPEAKERS BREAK IN?
Your new speakers are made of moving mechanical parts. Those parts are fresh off the factory line and therefore a little stiff – they've never moved before. Because they're stiff, they won't sound as dynamic as a pair given time to soften. And while this difference can be substantial to some listeners, it's fairly subtle for the rest of us.
HOW DO I BREAK-IN MY SPEAKERS?
Honestly, you just play music. It's the easiest, simplest way to do it. And after an unspecified amount of time and without any hassle on your part you'll soon have that little extra sparkle.
BUT WHAT IF I WANT TO SPEED THIS UP?
Like all things in life, everyone has their own special recipe. So, we've listed a few favourites depending on your taste. 
1. JUST KEEP SWIMMING
Just play. In time they'll open up like Water Lilies. Some folk say 20hrs, others 30-40hrs. Hell, some even say 50-60. It's all subjective. So just keep swimming, just keep swimming.
2. ALL NIGHT LONG
There are 8-10hrs of optimal break-in time just begging to be used when we all go to bed at night. So, select a Spotify/radio station, turn the volume to barely audible, and head to bed. Movement is the key here, not volume, and if repeated nightly you'll be broken in before the week is out.
3. CROSSING THE STREAMS (REVERSE POLARITY)
In the wise words of Dan Aykroyd, 'you should never cross the streams.' And he's kinda right. But in the reverse polarity recipe there's method to this madness.
Face each speaker an inch from the other and connect them to the amplifier like normal. Then, swap the positive & negative terminals at ONE amplifier end. This will reverse its polarity.
It works much like noise cancellation headphones: the frequencies cancel each other out to create, for the most part, silence (mostly bass frequencies).
This way you can volume up to just above standard listening levels (not too loud) without punishing your neighbours. The greater the cone movement, the faster the break-in process.
Just don't go crazy with it. Cranking any speaker is going to do damage, so go easy.
OUR RECOMMENDATION
Look, no matter the method, you're simply speeding up what will naturally occur anyway. So, don't sweat it too much. There's a reason we call it 'playing' music. It's meant to be fun. So just play! One day soon you'll be like, 'my speakers sound really good.' And you know what, you'll be right.